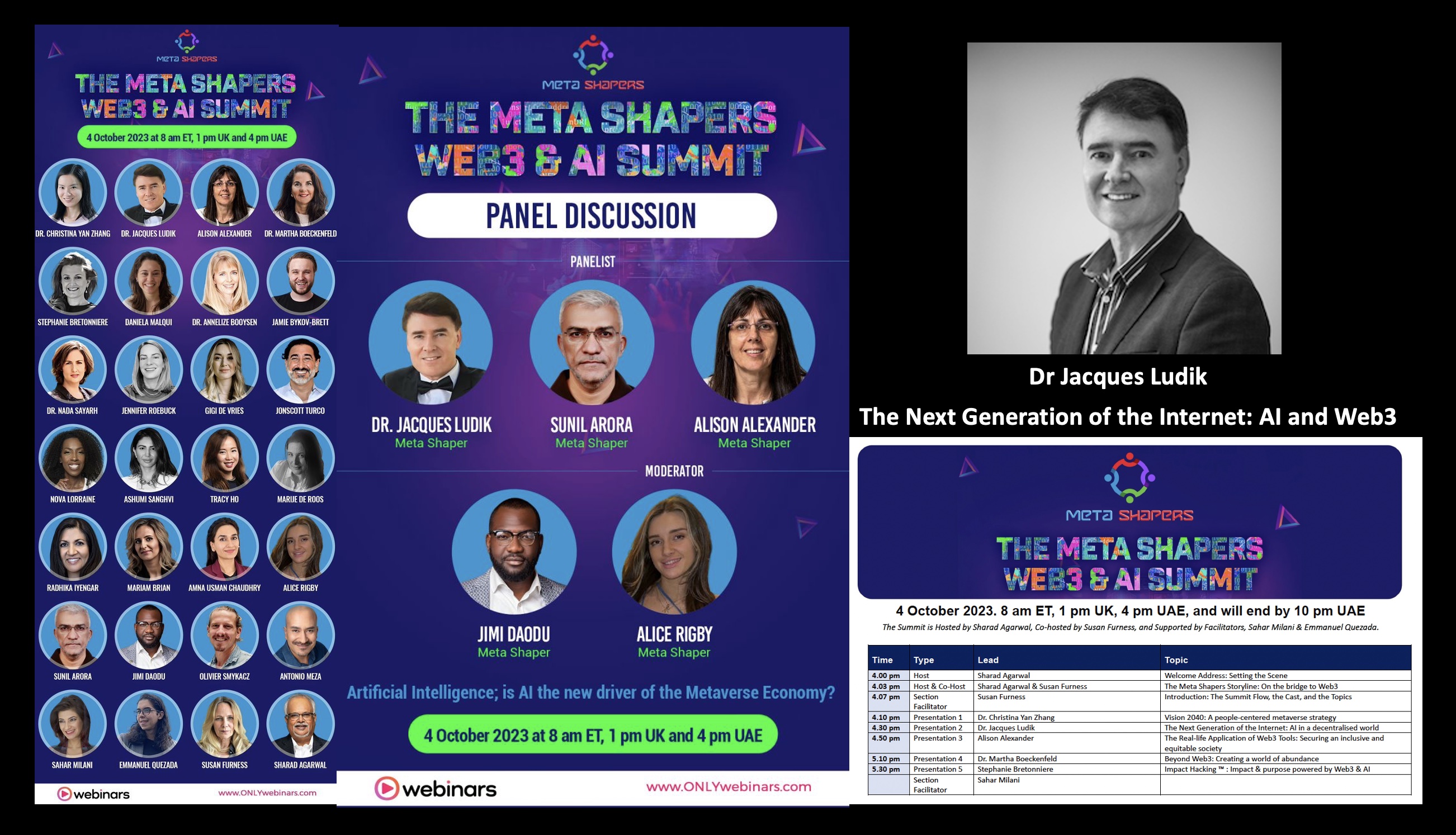 The Meta Shapers Web3 & AI Summit – 4 October 2023
What would the future of economy powered by #web3 & #AI look like? Dr Jacques Ludik will participate along with other speakers at the first Meta Shapers Web3 & AI Summit on 4 October 2023. He will be speaking on "AI and Web3: The Next Generation of the Internet for a Decentralized World". See also https://www.linkedin.com/pulse/ai-web3-next-generation-internet-decentralized-world-jacques-ludik/
The summit is organised by:
CEO, Cyber Gear, a leading tech enabler since 1996
Co-Creator, Strategic Heartistry, Summit's Content curator&co-host
Speakers:
Dr. Christina Yan Zhang Dr Jacques Ludik Alison Alexander (AmetaverseA.eth) 🛡️Dr. Martha Boeckenfeld STEPHANIE BRETONNIERE ⚡️ WEIMPACT.WORLD Oliver S. Daniela Malqui Dr Annelize Booysen Jamie Bykov-Brett Nova Lorraine Ashumi Sanghvi Jennifer Roebuck Gigi de Vries Jonscott Turco Sahar Milani Emmanuel Quezada Tracy Ho Marije de Roos, MSc Amna Usman Chaudhry Mariam B. Radhika Iyengar-Emens Alice J Rigby Sunil Arora ⭐🌐Jimi Daodu Antonio Meza
▶ Time:
13:00-19:00 UK Time 4th Oct 2023
🚀 Registration
Announcing the 'The Meta Shapers Web3 & AI Summit' program
4 October 2023, starting at 8 am ET.
https://drive.google.com/file/d/171RHKkprVt0d5D2vtv4Ig_53pwHx_bof/view?usp=sharing
Get ready for 6 hours of non-stop learning and fun as we discuss all things Web3 and AI.
Meta Shapers is a global community of impact entrepreneurs and industry leaders who are shaping the narrative around the Metaverse. You can apply to join the community at www.meta-shapers.com
#metashapers#web3#ai#summit
https://www.zawya.com/en/press-release/events-and-conferences/the-immersive-economy-to-get-plenty-of-airtime-at-the-first-meta-shapers-web3-and-ai-summit-ogwe93d1