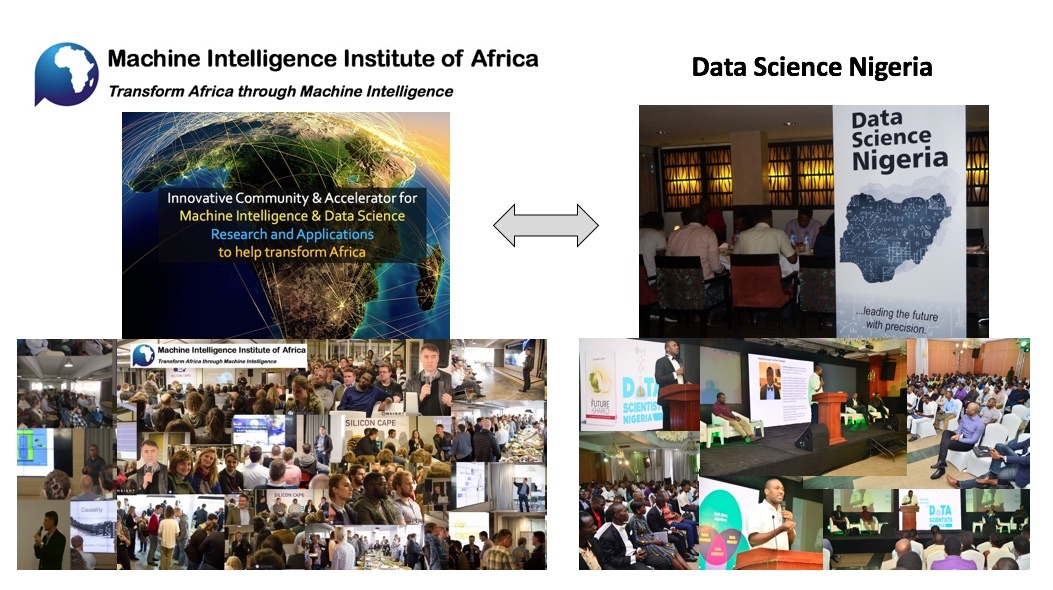 Machine Intelligence Institute of Africa collaboration with Data Science Nigeria
Dear MIIA community,
Best wishes to all for 2017!
The Machine Intelligence Institute of Africa (MIIA) is excited to announce a partnership with Data Science Nigeria, a non-profit organization to accelerate data science adoption and raise a new breed of local experts by training and mentoring young Nigerians through face-to-face, virtual online classes, project-based support and holiday boot camps. Data Science Nigeria, an initiative of MTN's executive, Bayo Adekanmbi, has launched on 26 November 2016 with Dr Uyi Stewart, Chief Data Scientist with IBM, USA that lead the plenary session. Data Science Nigeria, has now progressed to skill development workshops and will run the first bootcamp in Lekki axis of Lagos State between Friday 20 and Sunday 22 January 2017 (see links below for more details). The bootcamp will address competence gaps in Python, R, Machine learning, and general Data science concepts with real-world case studies. MIIA will be represented by Dr Jacques Ludik who will lead a Q&A session on Saturday morning 21 January 2017 via Webinar dial-in along with some other Data Science experts from the MIIA community. If you are Data Science expert that's interested to participate via Webinar dial-in, please send an email to info@machineintelligenceafrica.org.
UPDATE:
See feedback on the recent MIIA – Data Science Nigeria collaboration with respect to a Data Science Bootcamp (140 participants) that was held in Lekki axis of Lagos State from 20-22 January 2017: https://lnkd.in/gwUmNMe
https://lnkd.in/gGiv-JV
MIIA is also kicking-off the joint Hardware for Humanity Project with Stellenbosch University's LaunchLab on Monday 16 January 2017. For background see:
ABOUT MACHINE INTELLIGENCE INSTITUTE OF AFRICA
Previous LinkedIn post:
Machine intelligence Institute of Africa (MIIA):
Some Recent MIIA posts
Joining Machine Intelligence Institute of Africa (MIIA)
NEWSPAPER MENTIONS ON DATA SCIENCE NIGERIA
ASSOCIATION BOOTCAMP EVENT
ASSOCIATION LAUNCH MENTIONS
PRIVATE INTERVIEWS