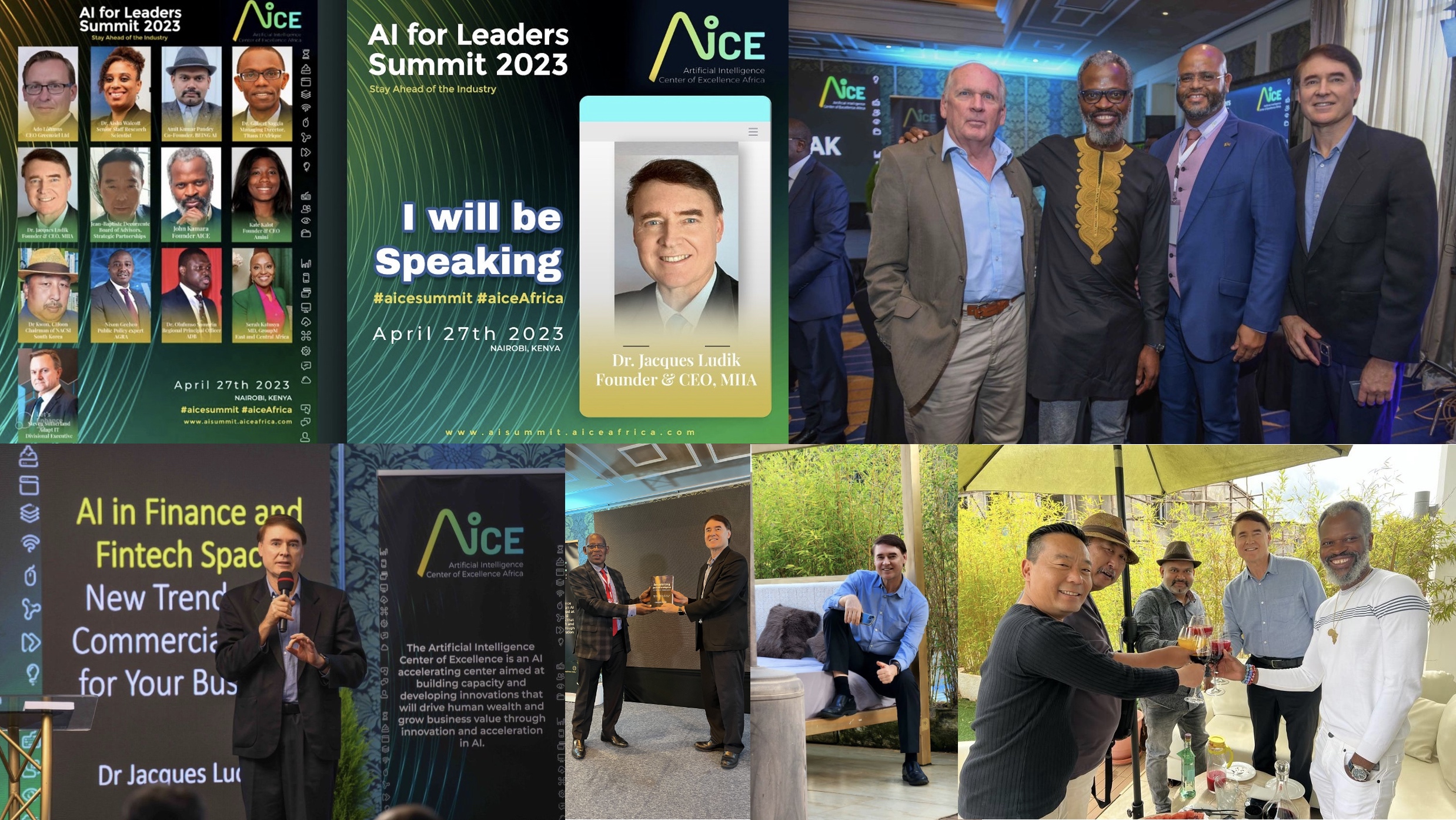 AI Leaders Summit 2023 in Nairobi
Thanks to John Kamara as well as the AICE Africa and Adanian Labs teams for an excellent #AI Leaders Summit 2023 in Nairobi, Kenya, as well as the follow-up events discussing the Future of AI policy in Kenya and Trustworthy AI and Research in AI, which were also very stimulating and thoughtful. I'm sharing my keynote address on AI in Finance presentation below as well as other relevant links. The AI in Healthcare panel was also insightful – see also relevant links below.
I've enjoyed my engagement with with everyone I've met at Adanian Labs and AICE and are looking forward to further collaboration – also via Machine Intelligence Institute of Africa | MIIA. I've also been impressed with the hospitality, passion, character, talent, knowledge, and thoughtfulness of the Kenyan people and other fellow African colleagues. As mentioned to John Kamara and others on the team, I'm proud of what has been achieved so far with Adanian Labs and AICE. Well done to everyone involved!
Keynote address:"AI IN FINANCE AND FINTECH SPACE. NEW TRENDS IN BANKING, INSURANCE AND FINTECH. WHAT IS THE COMMERCIAL VALUE TO YOUR BUSINESS AND WHY"
Presentation:
https://drive.google.com/file/d/1Gix_pj0dqlfB7oOGHV8UOfmlvKKhySVw/view?usp=sharing
See also:
AI Revolutionizing Personalized Engagement for Consumer Facing Businesses
The Power of Generative AI: Exploring its Impact, Applications, Limitations, and Future
See also the book "Democratizing Artificial Intelligence to Benefit Everyone: Shaping a Better Future in the Smart Technology Era" jacquesludik.com
Ultra-personalized AI-enabled Education, Precision Healthcare, and Wellness
https://www.linkedin.com/pulse/ultra-personalized-ai-enabled-education-precision-healthcare-ludik/
Vive Teens – viveyou.com
Journey Wellness – journeywellness.co.za
"Democratizing AI to Help Shape a Beneficial Human-centric Future" article:
https://www.linkedin.com/pulse/democratizing-ai-help-shape-beneficial-human-centric-future-ludik/
* Solutions to Address AI's Potential Negative Impacts
* Democratizing AI is a Multi-Faceted Problem
* Framework for Strategic Planning to Shape a Beneficial Human-Centric Future
* Designing AI for Social Good and Beneficial Outcomes
* Building Human-compatible, Ethical, Trustworthy and Beneficial AI
* Addressing Bias and Discrimination
* 21st Century Skills, Competencies, and Jobs for a Human-centric AI-driven Workplace
AICE Africa, Machine Intelligence Institute of Africa | MIIA, DSNai – Data Science Nigeria, SwissCognitive, World-Leading AI Network, AI Africa Consortium, Cirrus AI, InstaDeep Ltd, Cortex Logic, Cortex Group, Vive Teens, Journey Wellness
#fintech #business #insurance #finance #banking #kenya #artificialintelligence #datascience #future #africa Natasha Ochiel, Joel Osebe, Fancy Chepkoech Kebenei, John Wafula, Loise Mwarangu, Irene Phoebe Kiwia, Bendon Murgor, Michael Ogango, Gibson Gisore, MCIM, Lydiah Chegeh