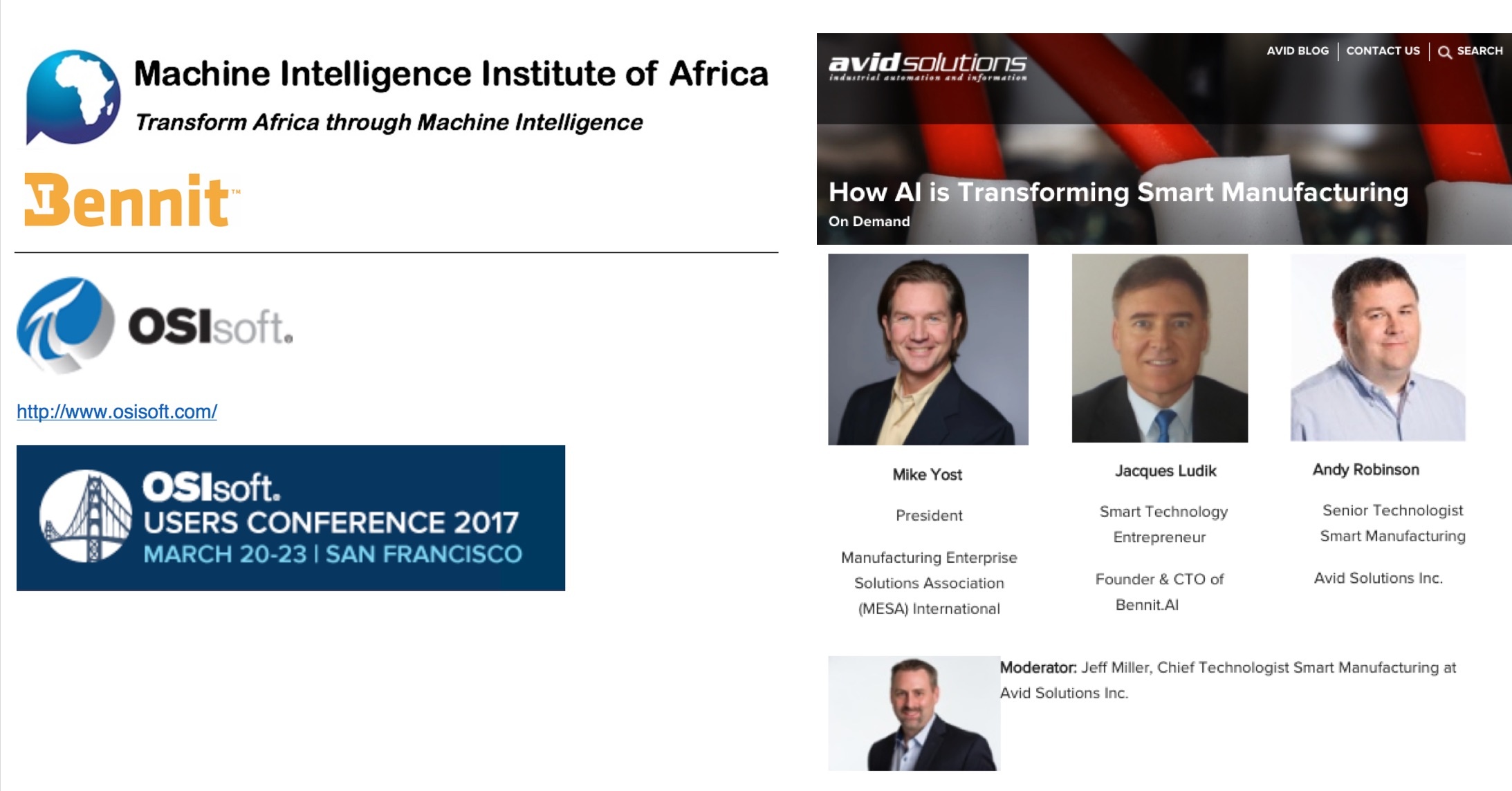 AI in Manufacturing and Data Science/IoT hackathon on Mining data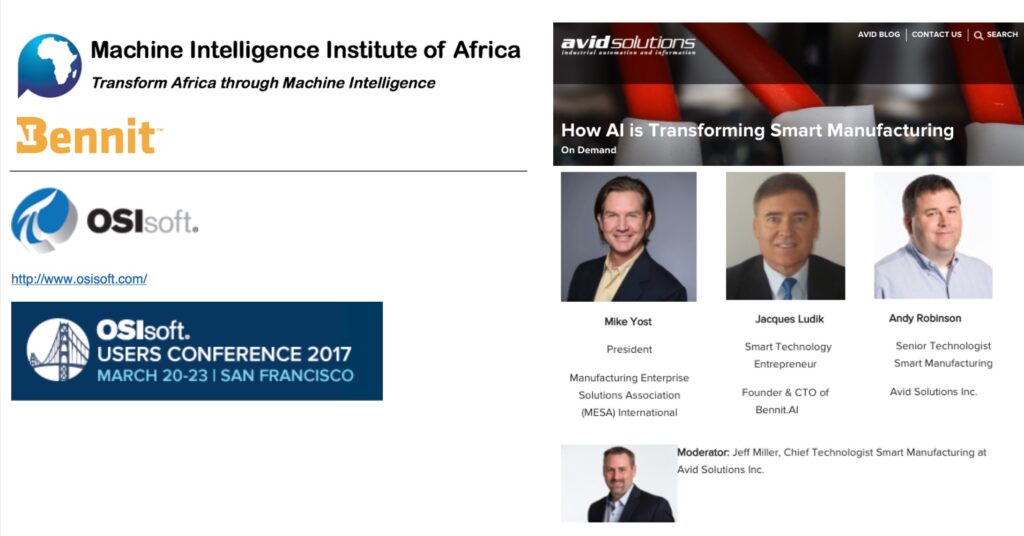 Dear MIIA community,
In follow-up to the previous blog post, herewith a few announcements and links with respect to Webinars, Hackathons and upcoming Meetups:
How AI is Transforming Smart Manufacturing Webinar
Special opportunity for MIIA and Bennit.AI to remotely participate in OSIsoft Hackathon 2017 in San Francisco
Details about the special invite: https://drive.google.com/file/d/0BxzNs-HspAzYS2w5bHFwX0hnVFk/view?usp=sharing
Duration: Monday 20 March 2017 at 6pm – Tuesday 21 March at 5pm (23 hours)
The 2017 theme is IIoT: Asset Health Monitoring, Predictive Analytics, and Maintenance Optimization of industrial mobile assets. OSIsoft has partnered with one of the largest mining companies in the world, Barrick Gold Corporation, to provide you with real assets and data from their gold mining sites to work with. You will be presented with an environment comprised of real assets and data. Using PI System components and our developer technologies think outside the box and see how you can bring the Power of Data to consumers and businesses. You will work together as part of a group to develop and implement your ideas. Use all of your PI System, data, and innovative skills while learning from others. At the end, your application will be judged by a group of experts. The top applications will be awarded prizes, and you and your team will be publicly recognized for the achievement.
If you are interested to participate, please send an email to info@machineintelligenceafrica.org before Friday 17 March 2017 at 9pm.
Call for participation (presentations, demos, etc.) for planned April-May Meetups in Cape Town and Johannesburg
In addition to some Deep Learning applications that we want to demonstrate at our next Meetups, the MIIA community is invited to participate via presentation and/or demo in our upcoming MIIA Meetups in Cape Town and Johannesburg.
Please submit your ideas or proposals on Data Science / AI / Machine Intelligence related topics, use cases or applications to jacques@machineintelligenceafrica.org.
ABOUT MACHINE INTELLIGENCE INSTITUTE OF AFRICA
Machine intelligence Institute of Africa (MIIA):
Some Recent MIIA posts
Joining Machine Intelligence Institute of Africa (MIIA)